Police Exam Question 2022
TestStreamsBlog
4 min

read
6614
Nigeria Police Force Past Questions and Answers is what you need to pass Nigeria Police Force test for 2022 assessment. This past questions material is in PDF which can be open in any device.
Nigeria Police Force Past Questions and Answers is highly mandatory because their screening is based on candidates performance in the test.
secondly Nigeria Police force test is always full of repetitions of questions set in their past exams. So candidates who prepare with Nigeria Police Force Past Questions and Answers material always have edge over others who did not prepare for the test with the past materials.
Pattern of Nigeria Police Force Past Question and Answers
It is 100% multiple-choice and We have made it very easy for you. we bring all the questions for many years and put them together. We provide the correct answers in order to save your time. All you need to do is to devote quality time to study the Past Questions for best performance in your test.
The test sections include:
Quantitative reasoning questions (MATHS)
Verbal Reasoning (ENGLISH)
Current affairs.
General knowledge 
Sample Nigeria Police Force Recruitment Test Past Questions and Answers
Below are sample of Nigeria Police Force Past Questions and Answers
Select the correct answer from the following options lettered A-D
1. A man invested #5000 for 9 months at 4 %. What is the simple interest?
A. N220
B. N 130
C. N150
D. N250
---
2. The full meaning of NPC is
A. Nigerian Police Commission
B. National Policy Committee
C. Nigerian Police Council
D. Nigerian Petroleum Commission
---
3. Choose the option nearest in meaning to the asterisked word or phrase. Though David's condition is serious, his life is not in immediate 'danger'.
A. Grave
B. Nasty
C. Dangerous
D. Hypertensive
---
4. The smallest number such that when it is divided by 8 has a remainder of 6 and when it is divided by 9 has a remainder of 7 is
A. so
B. 70
C. 80
D. 60
---
5. Select the option that best explains the information conveyed in the sentence. If he were here it could be more fun.
A. There was no fun because he was not present
B. He did not show up and so the occasion Jacked much fun
C. He was being expected to supply more fun
D. He was expected but did not show up to liven up the occasion
---
6. When a dealer sells a bicycle for N81 he makes a profit of 8%. What did he pay for the bicycle?
A. N74
B. N74.52
C. N75
D. N75.52
---
7. Cote d'Ivoire was formerly known as?
A. Yamassokou
B. Ivory coast
C. Gold Coast
D. Rhode Coast
E. E. Diamond Haven
---
8. Express 0.02 as a fraction in its lowest term.
A. 1 /5
B. 1 /50
C. 1 /0.S
D. 1 /500
---
9. Select the option that best explains the information conveyed in the sentence. Intensify
A. I N-ten-si-fy
B. ln-TEN-si-fy
C. in-ten-51-fy
D. in-ten-si-FY
---
10. If -2 is the solution of the equation 2x + 1 -3 c = 2 c+ 3 x -7, find the value of c
A. 2
B. -2
C. 3
D. -3
---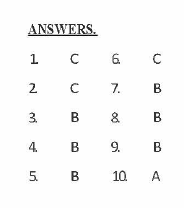 ---
11. The first Inspector General of the Nigerian Police Force was
A. Teslim Balogun
B. Louis Edet
C. Ademola Adetokunbo
D. Mike Okiro.
Answer is B
---
12. In order to qualify for the post of President in Nigeria the person must be _____ and above
A. 35 years
B. 20 years
C. 40 years
D. 55 years.
Answer is C
---
Fill each gap with the most appropriate option from the list of the following words.
13. In moments of serious economic hardship, many people are ______ to turn to God.
Options:
A. Concerned
B. inclined
C. disposed
D. propended
Answer: C
---
14. We cannot all wear expensive shoe in situation of __________
Options:
A. Divergent demand and supply
B. uneven wear and tear
C. different purchasing power
D. unpredictable national income
Answer: C
---
15. A man is four times as old as his son. The difference between their ages is 36. Find the sum of their ages.
A. 45 years
B. 48 years
C. 60 years
D. 74 years
Answer: D
Want more questions like this? Get the Nigeria Police Force Past Questions and Answers – 2022 Updated, with even more questions and answers with in-depth explanations